Hiteks' Insight: Real-Time Revenue Rescue software incorporates a range of products to create a suite of tools for the health care provider. This suite has a differentiating speed and accuracy of the proprietary clinical Natural Language Processing platform that serves as its basis.
Our products are optimized for your current EHR environment and scalable to meet your future workflow and informational needs with good data. Hiteks currently develops and deploys integrated solutions with the EHR (e.g. Epic, Meditech) which are targeted to the provider groups who are seeking real-time point-of-care feedback. We have focused on data entry, coding and quality improvement using the products below:
Insight: Real-Time Revenue Rescue Solutions:
ENTERPRISE SERVICE ARCHITECTURE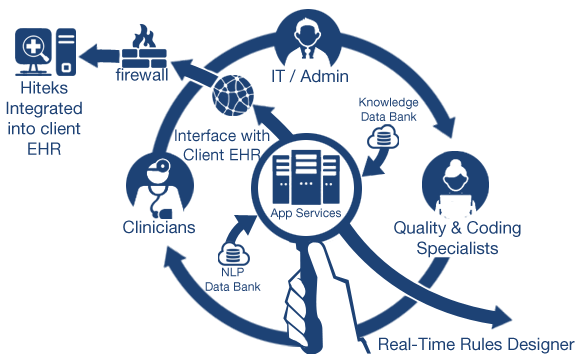 Based on our client successes and market demand we are expanding our products into two 3 market segments:
Documentation Improvement and Alerting
Reimbursement and Revenue Cycle Management
Quality Measures Abstraction and Reporting
Although Hiteks can be deployed on-premise, we recommend our cloud implementation: We offer a flexible hosting environment that allows for workload scalability through Hiteks dedicated servers. Hardware resources can be scaled up or down to meet customer demand and service utilization requirements. Our cloud-hosted offering allows for secured PHR information exchange in accordance with HIPAA (ISAE 3402 / SSAE 16 Type II SOC 1 compliant).
Subscribe to our Newsletter
Stay informed on the latest news and updates on physician and nurse workflows for quality care, clinically aligned revenue cycle and more!
Refer a Client
Hiteks offers significant discounts for extended contracts and for client referrals