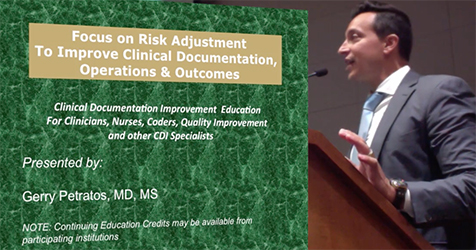 Computer Assisted Physician Documentation (CAPD) which incorporates Risk Adjustment allows for capture of comorbid conditions important to the new payment and scoring mechanism developed over the past 10 years by HHS. Risk Adjustment is favored over other payment methods (e.g. DRGs, E/M levels) due to its predictive accuracy in payments (aka relative liability expenditures). Since Risk Adjustment Factors (RAF) are becoming the prevailing reimbursement mechanism for hospital systems who also own and manage their own ambulatory practices, our CEO Dr. Gerry Petratos has been traveling the USA as an invited guest for AHIMA and ACDIS chapters, and health systems delivering this educational lecture. Hiteks' deep domain knowledge of both Risk Adjustment and CAPD allows our software to provide clinically meaningful and revenue focused suggestions. Hiteks' 2 solutions for CAPD include AdvocateMD powering Epic NoteReader and ConcurDI powering Epic NoteReader CDI, both front-end solutions that provide significant increases for RAF scores due to the prospective nature of making suggestions in real-time directly to physicians or their Scribes. For additional insight on the impact of the new Risk Adjustment model used in healthcare, please watch our video recorded live at a local chapter meeting for ACDIS (Association of Clinical Documentation Improvement Specialists).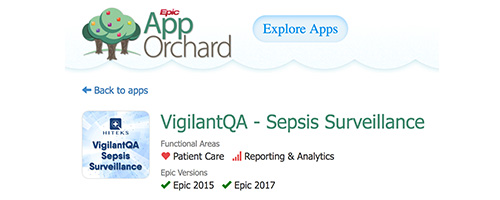 Crossing a major milestone in 2017, Hiteks Solutions Inc. in collaboration with Epic has earned VigilantQA, part of our Insight suite of products, its place as the first and only Sepsis Surveillance solution on Epic's App Orchard marketplace, easing provider access to a powerful Artificial Intelligence (A.I.) detection, intervention monitoring and abstraction system. We expect VigilantQA to significantly advance patient safety at participating hospitals by ensuring quality care is delivered in a timely manner and reducing the deterioration of patients from Sepsis to Severe Sepsis to Septic Shock. At the same time our solution strengthens financial ROI from better documentation and revenue cycle, the "sweet spot" of clinical workflows. Stay tuned for additional App Orchard approved solutions for Hiteks powering NoteReader, NoteReader CDI and MedEX for BPA enhancement using Notes in the coming weeks.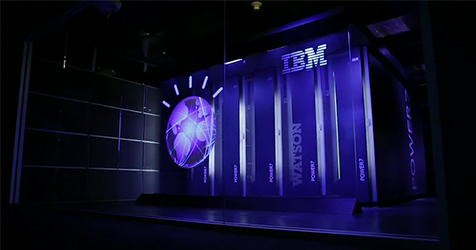 Recently IBM's Watson has come under criticism for its failure to work on multiple cancer types and requiring painstaking expert guidance to build its knowledge. As our CEO, Dr. Gerry Petratos pointed out in a LinkedIn article, "Clinical Expert Systems Require Knowledge Engineering (KE) that Reduces Domain Expert Involvement." As he learned when he was at Utah's Department of Biomedical Informatics program, and subsequently taught at Northwestern's Masters for Medical Informatics, expert systems require machine learning to be built into their DNA for them to work. As a result of Hiteks' architecture, we have built a platform that is both responsive to the timely needs of physicians for information, and configurable to incorporate dynamic knowledge bases. Our ConcurDI solution powering Epic NoteReader CDI is a great example of how we have architected a solution for multiple different forms of knowledge.
Contact us
www.hiteks.com
447 Broadway, 2nd Floor, New York, NY 10013
Copyright © Hiteks 2017, All rights reserved.