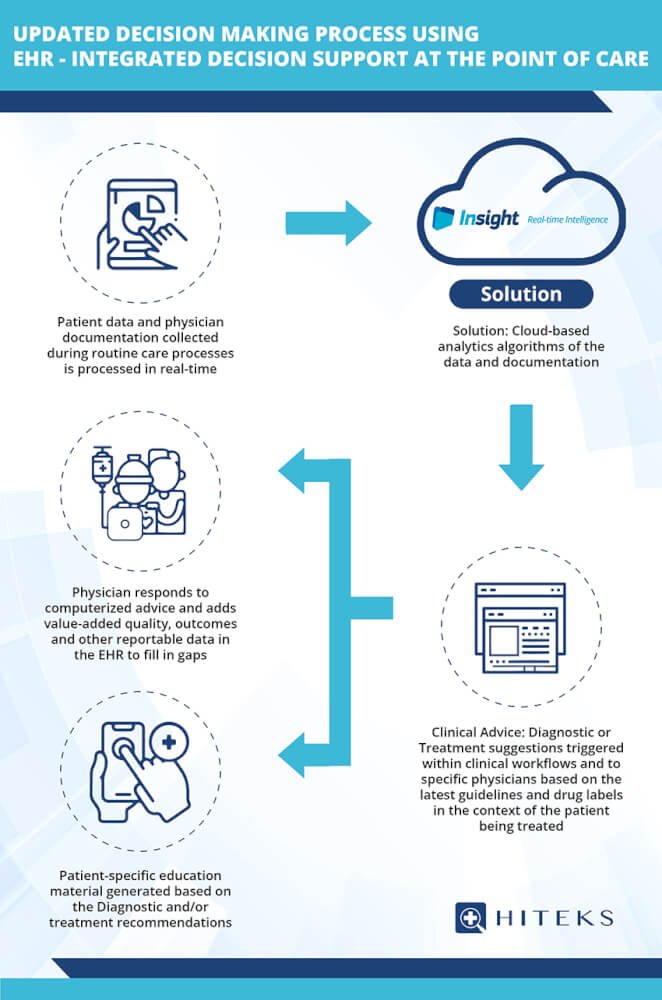 At Hiteks our goal is to make a contribution to people like you who have a passion for advancing the workflows of Life Sciences companies who are making a huge difference in innovating with new diagnostic and therapeutic products. While our point-of-care models can be tailored to your request in order to meet any special requirements for your products, we do have experience with what will be the most compliant and responsible methods of decision support.
Most importantly, our systems meet the needs of practicing clinicians and complex health care systems like academic and community medical centers and their member hospitals and physician medical practices. Hiteks' decision support always integrates with an Electronic Health Record (EHR) system workflow and always is authorized by the participating provider groups.
Hiteks has developed clinical applications at the point of care which are relevant not only to the physicians who use them, but also to Life Sciences organizations who develop and commercialize products to help patients.
Life Sciences empower physicians with the right tools to study illness and fill-in the treatment and information gaps which currently exist in the commercialization of new therapeutics.
The need for Life Sciences to integrate with digital clinical workflows has come, here are the reasons:
Physician Education: Responsibly communicate new product updates to physicians
Clinical Trials and Observational Studies: Design new trials and gather data faster
Commercial Marketing: through responsible reminders of peer-reviewed, published guidelines, branded products can gain a position within the EHR workflows
Key Performance Indicators for Life Sciences can be achieved through Hiteks' EHR-integrated service, including the following metrics:
 Higher views by physicians of its FDA and other Regulatory Authority marketing approvals
 Higher enrollment of patients for clinical trial screening
 Filling in the gaps for Observational Studies by soliciting feedback from clinicians at the point of care
 Higher compliance and adherence to therapeutics so that they are prescribed as indicated
 Faster and more complete access to safety data
---
Hiteks provides guidance to practicing clinicians using the latest machinery of the Electronic Health Record along with cloud-based analytics technology, as shown in this overview of digital health areas:

Getting the attention of physicians is harder now due to the distraction and complexity of the digital Electronic Health Record, with most of physician time being spent in these systems.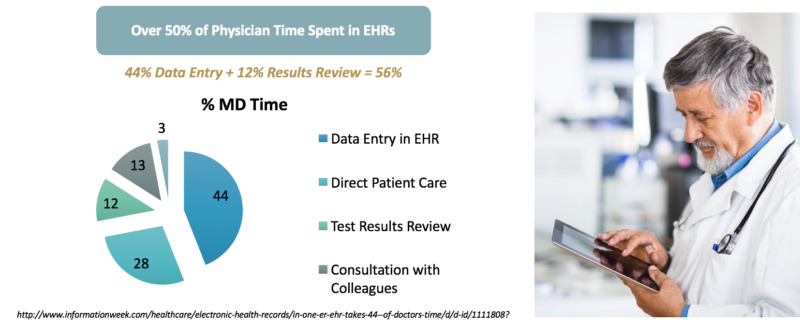 Whenever a Life Sciences company wants to ensure higher adherence to clinically accepted guidelines, Hiteks is the answer:
Check out this example with heart failure
Integrating long-sought out methods of bringing point of care data and workflow opportunities to Pharma, Biotech and Medical Device companies so that they can bring real-world data to health authorities like the CDC and the FDA in the US market, and the other regulatory bodies across the world in the EU, Australia, UK, Africa, Latin America, Middle East, Asia and others, has been a long-term goal of Hiteks.
Due to Hiteks' position working with Providers, the FDA and Pharma since 2011 on clinical applications to gather and analyze vast amounts of health data to decision-making, its tools are now available for Life Sciences to leverage such real-world data (RWD) to improve regulatory decisions and ensure consistent use of their products.  Recently the FDA announced a new 2019 strategic Framework to advance these opportunities.
Innovations in clinical natural language processing (cNLP) are mentioned by the FDA and others as being transformative to the business of developing and commercializing new medicines and medical devices.  Specifically, Hiteks uses cNLP and RWD in point-of-care applications relevant to Life Sciences in the following 5 areas: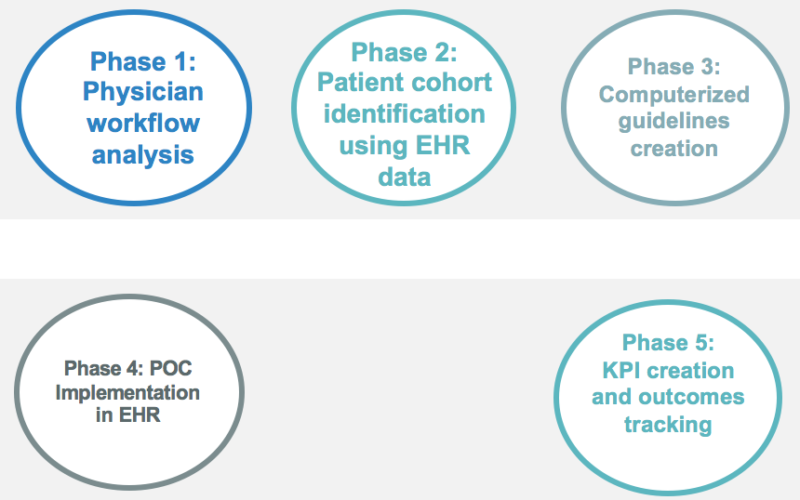 Identifying existing practices for disease and diagnosis management at the individual health system level and aggregated across geographies, including inpatient, emergency and ambulatory care
Using available retrospective and prospectively obtained RWD to identify encounters with appropriate combinations of documentation-based mentions of diagnoses and signs/symptoms, with Labs, Medications and Vital Signs
Identifying the key areas of guidelines which are important for the management and therapy for patients and organize the criteria into computer-executable logic for implementation in a point-of-care workflow solution
Configuring the Hiteks tools to incorporate logic for point-of-care suggestions from the guidelines
Identifying Key Performance Indicators (KPI): outcomes important to tracking physician behavior, gaps in care, compliance with guidelines, financial metrics and patient outcomes.
At Hiteks, we provide the most efficient mechanism to deliver Key Opinion Leader and guidelines guidance to clinical stakeholders at the point of care.  Although we specialize on delivery and App Orchard product creation through the Epic EHR, we also have collaborations to access other EHR environments.